I played it for years but dropped it nearly two years ago (so about the same time as you!). I wasn't F2P and had spent about £500 on the game in total, but I'd been playing it since beta in 2014 and had thousands of hours out of it so didn't feel short changed.

I finally gave up when they brought in the new 'rewards track' system which on paper gave as much gold and stuff as the old quest system, but demanded far more time from the player, and I was also fed up with them cranking out new cards on a far more regular basis and making so many of them 'must haves' for competitive decks. I much preferred the old cadence of 'cards expansion - story expansion - cards expansion - story expansion'.

As someone who'd been playing the game for years, spent hundreds of pounds and never missed a daily quest (I would generally go into a new expansion being able to buy 100+ packs with gold I'd saved up), I'd really started to resent the fact I couldn't just craft any cards I wanted to try a fun new deck, because it might turn out to be shit in the meta and then I'd wasted all the dust to get the cards. Plus Blizzard were absolute fuckers for padding out the legendary and epic card pools with horseshit cards that were no use at all.

Then you had decks that were just awful to play against, like fucking Resurrect Priest (god I hated that), all the RNG that they'd added into the game, the lack of them giving a fuck about Wild mode in terms of card balance, it just seemed to be a long way away from the board-based unit tussles that I loved so much about the game early on.

One day I just thought, 'Nah, I've had enough of this now', walked away and never played it again.
Pretty much the same reasons for why i stopped playing it then.
I said i did not feel like spending a ton of money on it but just like you i did spend a couple hundred on it, i would guess around €250-300 over a couple or years, but same as you it was not very expensive (at least it didnt feel expensive) considering how much time i poured into the game.
I actually thought about making a comeback about a year after i stopped playing, but after installing the game and looking at how much i had missed and realizing it would be pretty much impossible to catch up without spending tons of money i just gave up and uninstalled it again.
Its a shame because it would be such a perfect 'casual game' if not for how hard it is to keep up with all new releases, building decks to counter the popular trends was always a good time, but often you had to have the newest sets to counter those decks.
And like you mentioned the rng element increased over the years, and that also made deck building less fun imo.
Whats the point in carefully constructing a deck if you end up losing to random crap every other game.
Like with everything else its all about the money for these companies.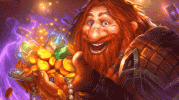 Last edited: