Moved on from Trada Casino
Joined

Jan 11, 2017
Location
Hey everyone!
As you might have guessed from the thread title there has been a big change made at TradaCasino.
After gaining a lot of feedback from our players and of course from the
countless threads
here on Casinomeister, we are proud to officially launch our Withdrawal Locking feature to the world!
Previously, players could always request their withdrawals to be locked via LiveChat and we would always be more than happy to oblige, but this takes away that need to ask, and puts full control in your hands.
Once the withdrawal has been locked, it will be impossible for a player to cancel the withdrawal.
As always we aim to process all withdrawals in 0 - 6 hours once your account has been approved, and now with the lock feature available to all players, there's no need to worry about missing out on that withdrawal.
Here's a quick step by step guide on how to lock your withdrawal. You can also lock your withdrawal under your "My Account", "History", "Withdrawals".
*Note - Balance shown might differ to those in your account...

Step One:
Login to your TradaCasino account and click on your My Account. (On a desktop, this is your name highlighted in red).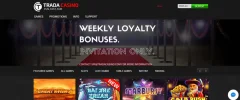 Step Two:
Request a withdrawal as normal by clicking "Withdraw".
Step Three:
Once you have requested your withdrawal, click on "Withdrawals in Progress". Here you will see two options, cancel & lock.
Step Four:
When you click "Lock" you will be shown the below popup which confirms, your withdrawal has been locked and when you enter this area again you will see your withdrawal has the status "Flushed" (Which means locked).
If anybody has any thoughts or feedback on our new feature, please feel free to share them here.
As always, I'm here to help, so drop me a PM if you need anything.
Conor