Joined

May 23, 2013
Location
just withdrew my balance. Most frustrating session of slots I can remember.

Most games dont load, or give the error (below) on first spin

None have autospin

Most don't seem to have proper stake selection (eg playboy 60p/£1.20/£1.80 etc - wheres 30p/90p etc? BDBA £2.25 min bet.

Most seem to be the mobile version.

No live chat.

View attachment 91781
That's terrible. I've had simlar issues like this in the past at Trada and it's especially frustrating when it's Microgaming you intended to play.
The new HTML5 versions of Microgaming slots are also probably the worst. They should just not have bothered. If it's not an incredibly tiny window that displays to play on (And I'm talking about needing a microscope to see the game), then the game has absolutely no sound. Which in itself is more infuriating than the games not loading, but that falls back on MG.
Here is what you were looking for btw since they opted to go for a terrible game layout. I had trouble myself finding out how to change the coinsize as well.
Which will take you here.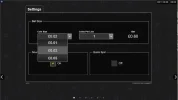 To go back to the game press the arrow on the right.
Things were better when they were simpler

Last edited: