Winter is Coming!
Staff member
So many of you may know that my main site over the past 12 months or so has been subjected to multiple negative seo attacks.
The first one I documented here
Well in April this year I received this comment, which I attach below, on one of my YouTube videos. The video in question being my video review of Guts Casino. Anyone who operates a YouTube Channel, will know that you, as the channel owner, gets notified when any comments on any of your videos are put in place.
The date of this particular comment was 3rd April 2018. Subsequently several days later, a shit load of .pp.ua domains were set up. With around 82 pages populated on them, using the entire content from my Microgaming Casinos page which can be found here
These domains were then redirecting after a second to a Russian casino portal hosting on the .pp.ua sites. In addition to these domains there were also a couple of .ru domains set up. All using my content and then redirecting to these portals.
Here is an example of what google sees:
Why use my content? Well if done multiple times, which in this instance is exactly what happened, the perpetrator would hope that my site would get hit by PANDA, seeing that my content is on many other pages. As google would crawl the scraped content.
Additionally my content obviously links to other parts of my site. So you have hundreds ( Actually thousands ) of links all pointing back to my site from these shitty domains. Thus the perpetrator would hope my site would also get hit by the PENGUIN algorithm.
Whilst I have no concrete proof who is behind this attack, anyone with an IQ of higher than 5 can work out who or whom it is.
The reason I am writing this post is two fold. To give my fellow webmasters a heads up as to what to do if you are subjected to something similar. Plus to let my friend who left the YouTube comment know that, despite your very best efforts. I am still very much here

OK, so how does one go about dealing with this. It is a PITA to be honest, but the following is something every webmaster should schedule into their task list every day.
1) Check backlinks daily. Don't just use Webmaster Tools, but also utilise one of the professional software suites such as SEMRush, Majestic SEO or Link Research Tools.
2) If the links you see look bad. Disavow them. The Google Disavow Tool can be accessed here:
3) Sign up to
4) File a Copyright Removal request with google. They are super quick and do act. Indeed, just this morning they removed one of the .ru domains from their index which was utilising my content. You can access the tool here: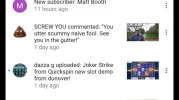 Last edited: