Joined

Apr 27, 2017
Location
So, I have thought about this for a while, and it just annoys me that there are so many slots out there which have annoying and pointless mechanics. Thus not very good at the whole customer experience.
So I've created a short list for now, this is not to be confused with the high volatile slots and missing "Ds" , but just mechanics in slots which seems so dumb, in my opinion anyway

And as we have a few slot developers in the forum, it would be good to get some input from these also.
First off is a relative new one,
Gem Bonanza by Pragmatic: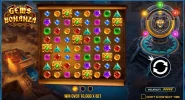 This game features a bonus round if you win with enough symbols (or cheat and bonus buy), along the way you can trigger different modifiers along the way if you connect the highlighted spots. These modifiers include giant symbols, wild gems, random wilds, squares (sets of symbols) and often considered the worst nuclear which wipes the board and gives you a fresh one for a new chance of connecting.
The gimmick with the bonus round is that you have all these modifiers from the start and if you collect enough symbols you level up and get higher multipliers and go again.
So so far all good right? Well, how about making the worst modifier even more.. pointless? That's right. When you trigger a bonus round it starts the bonus round when you have no more wins in the base game, but it actually dosen't give you a new board. Instead it
USES
your nuclear modifer to clear the board so you can start the round. I mean, what where they thinking?

So basically, you get 4 modifiers by making one useless.
@PragmaticWolf
would love to hear what your design team was thinking when they thought this was a good idea.
Next up is ..
Ghostbusters Plus by IGT


So this games gimmick is that you get certain wild rewards for catching ghosts, either by landing them in the middle of the reel or triggering the bonus. These wilds could be a 10x wild, which places itself in the best possible position to give you a win times 10, or expanding wild which could expand left, right up down, or all the ways. Sound good right?
WRONG.
For some bizarre reason, they have done it so when you get an expanding wild, it chooses the best position
prior
to expanding. So say you manage get an expanding wild that expands in
ALL
directions, maybe you got it from the bonus round which could be hard to trigger. Well, if you are really unlucky (or maybe most of the time!) it will place itself in the lower left corner of the screen to create a win and then expand. Making
FIVE
wilds expanding into the void, instead of putting itself in the middle of reel 2.
This is seriously what has annoyed me the most, it's either some very strange reasoning behind it or just bad bad programming where they can't program the best position after expanding. Would
LOVE
to get an explanation from your online team
@trancemonkey
Oh and as a bonus..
Geeee, how generous.... (again why? Not a great experience!)
Next up is
Yeti battle of Greenhat Peak by Thunderkick
You know in most slots where wilds replace the symbol and if you say have 3 wild symbols in a row they are actually worth more than 4oak of say Q or A and you get paid for the 3 wilds instead?
NOT IN THIS GAME.
Here they have decided that if you say have 4 wilds in a row and a J at the end, you get the wins for J and not 4 of the top premium symbol, which makes you lose out on
30x.
The reasoning? Because of this rule:
"Only the longest pay line is paid out" /facepalm
And now to the special shoutout to a whole bunce of bad mechanics in slots
- Slots where more than 3 scatters does
NOTHING
extra (Pimped, Jack and the Beanstalk and many many more)
- Slots which spends time doing animation for nothing, like expanding wilds when there is no win possible. Please don't waste our time.
- Slots where the freespins paytable are alot
WORSE
then the normal paytable, thinking you have hit the jackpot when you get wilds or multipliers (I even created a thread thinking I had been cheated on one game by Gamesys, only to find out that the paytable during freespins is like 5 times worse, so getting a 6x multiplier barley gives you anything extra)
- Slots who give you the rarest/highest paying symbol as an extra wild during freespins (Like Great Rhino)
- Slots who shoots out fireworks, lightning, big sounds, with celebration for ages for a ... 10x win. It's not a big win stop it!
- Slots who slows spins for the same reason for a 5x win. "Old" pragmatic slots where notorious for this like Madam Destiny.
Anyway, There is probably way more things also that annoys people who play slots, please comment with them. Maybe slots developers can improve by seeing this.
And if there is anyone who needs a beta tester, you know where to find me