We've all been there.
small deposit, hit something nice...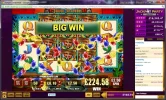 and try a few big spins...and a few more....
balance dips a bit...dips a bit more....
hit something else...
and before you know it you're in the CRAZY ZONE

just zonked out and betting stakes than you wouldn't normally dream of. Often happens when I'm hungry too for some reason

I find that If I hit a true biggie (for me anyway) even when I'm in the CRAZY ZONE then I'll be ok. Like this one a while back:
Now that was a great hit for me and I had no problem cashing it out. I find that when I'm up at around £200-£400 that it's tough for me to cash out, even though I probably only deposited £50. I end up playing it all back much more often than I would like.
There's an element of "speculate to accumulate" - sure. But there's also the Gambler's Ruin - the longer you play, the more your chances of busting out.
The thing that annoys me is that I'm often up by £100-200 at a few different places on several different sessions during a given day - if I had cashed out from each of them then I'd have a healthy chunk of change.
So, gang - any tips for exiting the crazy zone? Advice much appreciated as always.

Last edited: