Professional smurf hunter
Joined

Apr 4, 2012
Location
I never played at this casino with a bonus, so it`s my fault.
Yesterday they offered a 50% bonus, WR 40x bonus. Ok, deposit 100 and 50 bonus. 50x40 is 2000. I wagered a little over 1000 and found this: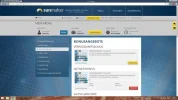 You can see the little blue bar there? I was shocked because I wagered more than 50% of the WR.
I asked CS and she told me, WR are fulfilled when the whole bar is blue. OK, told her that I wagered 1000 and asked why the bar is in a position like that.
No answer, so I decided to cancel my bonus what I did. My balance was exactly 225. I cancelled and all was gone. Zero, null, nada.
Then I read the T&C`s a little bit closer and then I understood:
Only wagers made with Bonus Funds will contribute towards the wagering requirement. Wagers made with Real Money will not count towards the wagering requirement.

and
The player has the right to cancel a bonus offer from his/her account. In this case all winnings generated by the bonus money will also be cancelled.
Obviously I fell into bonus money and they say now, ok your deposit is lost and you cancelled your bonus, so all is gone.
What, when I have a big hit in the beginning. Can I cancel the bonus and cash out my winnings? I can`t find it in the T&C`s and CS is not very helpful I have to say.
However I will never play with a bonus there again.
This thread is just for your information.