Good(w)ill Ambassador
CAG
MM
Joined

Apr 27, 2009
Location
Happy Summer CMland
Exclusive - Summer Super Screenie Contest
congratulations winners, contest is now closed!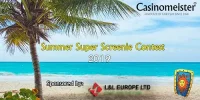 it's the
CM Summer Super Screenie Contest
and all YOU need to do
is drop your best screenshots here and
bask in the glory of your wins and soak up
some super sweet prizes along the way
prizes courtesy of
L & L
(participating casinos below)
Yako Casino
NoBonus Casino
All British Casino
Fun Casino
Casino Casino
Hyper Casino
Here's how it works:
PART I Daily Tasks
Each day you may post up to THREE screenshots for the slots provided and task at hand from any of the participating casinos.
Tasks may be an X multiplier, 3-5 scatters, a 5OAK etc - simply watch for your daily task and post here.
Qualifying screenshots will earn you a ticket (max 3 a day) to go toward the draw for fantastic prizes
provided by L & L Casinos.
PART II Casinomeister Challenge
You will have the entire contest to post your BEST wins (X multiplier) on the Casinomeister slot from any of the participating casinos (max 3 screenshots/day, min. 100X)
Main Prize Pool: $250 1st:


$100


Runner-up:


$75


3rd-5th: $25 Casinomeister Slot Prize Pool: $50


biggest X Win

$25

random draw

$25

That's

$300

Cool Cash up for grabs

Watch here for the daily tasks and happy spinning!
Some quick answers to help you out -
Where can I play?
At participating L & L Casinos
Not yet a member? Sign up using the links above
What do I post?
Watch for the task at hand and post a qualifying screenshot.
Be sure to show the casino property is identified clearly in the picture.
Watch for any conditions set in the daily task.
How Do I Qualify?
Contest open to qualifying members who have made at least one deposit of $25 or more at any of the participating casinos prior to, or during contest period
3 screenshots?
So as to to not flood the board, screenshots are capped at 3 per member per day for the task whether you post all 3 from one of the 2 provided slots or split them up...and a maximum of 3 from the casinomeister slot/day
Screenshots can be from any of the participating casinos listed above.
You may choose to play stategically or post as you win but there may be an extra ticket for first posted or largest win.
Is this a leaderboard contest?
No. There are no prizes for most tickets. All qualifying tickets go into a random draw using an RNG. Participate casually or often for more tickets.
Ok. Got it. when is it?
June 17th - June 26th
Any Qs, post below but please be sure to read terms below and always read the rules and daily tasks thoroughly
Those pesky Ts and Cs
Contest open to any member with a minimum of 10 authentic posts prior to contest start date and have deposited a minimum of $25 prior to or during contest period in any of the participating casinos
Screenshots must come from real money funds
All screenshots must clearly indicate the casino property in the image, fall within the qualifying period and be from one of the listed participating casinos
A 'day' ends at 11:59 EST
DO NOT pm casino reps or casino support services.
Direct all queries here or pm myself
Winners will be forwarded for prize allocation - please allow 24-72 hrs for crediting
Random prizes determined by an RNG from all qualifying tickets
Players are eligible to receive max 1 prize from the main prize draw (Part I) and max 1 from CM slot draw (Part II)
Prizes carry a 0X WR and are available to WD* and will be allocated to casino of winner's choice at any of the participating casinos
*general casino WD terms in effect
​
Last edited: