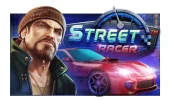 ​
Hiya good fellows I'm proud to announce a Special Unlucky tourney related to the latest Released Slot By Pragmatic: Street Racer
3 Most Unlucky members from each Special Tourney will we rewarded with 1 Golden Ticket.
First Tourney Already Started... go for it!
:
Please post your final result here.(screenshot with your result)
0 Spins Left screenshots only will qualify
All prizes will be rewarded in the related Socialtournament Account
MUlti-accounts Not allowed ( Forum i/o Socialtournaments).
In case you're not Registered there yet
​
Last edited: