Meister Member


Joined

May 8, 2018
Location
The last few days I seem to be getting spam or affliate emails from the same outfit, the style of email is very similar and basic, though the addresses are different.
today's was titled 'EASY christmas money...'

Hey Friend,
Read on if you want to bank some easy cash before Christmas.
This site is making people with ZERO football betting experience A LOT of money.
If you click the link below right now you can join a group of successful bettors who are making easy profits betting on accurate trebles selected by a betting genius.
Mike *******
Football betting Legend
------------------------
top fecking spamming legend more like, probably put's a bank balance emptying trojan on your pc if you click the provided link... and yes ends up 'easy christmas money' but for these $%!*s

and who could not be swayed by this chart received the other day re horse racing tips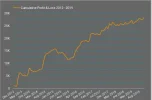 Apparently the person who sent me this is one of the most successful horse racing tipsters
of all time
, so who am I to quibble. I love how there also seems to be dozens of other amateur low grade sites recommending this tipster, with so called reviews.
I wonder if these people who run these tipping services actually do any horse race research or are they all total scammers? I think I have an idea as to the answer but I know little about the horse racing scene.