Joined

Jan 28, 2016
Location
OK, so I stopped playing at SlottyVegas a while ago due to a few reasons, but nothing major. On Tuesday I got this email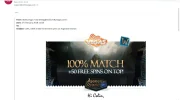 You can clearly see the date is the Tuesday 27th.
I decided to go for it, so later in the day I deposited £100, got the bonus, lost it, all good.
Yesterday I got this email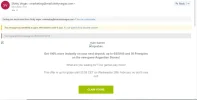 Great, same offer again, so I deposited another £100. Didn't get the bonus.
Live chat
Ale Wed, 02/28/18 08:05:01 pm Europe/London
Welcome to Slotty Vegas
Hi Colin
Colin 08:05:11 pm
Hiya
I just made a deposit for the 100% match and 50 free spins but the bonus doesn't seem to have been added
Ale 08:05:56 pm
Let me have a look Colin
Colin 08:06:00 pm
thanks
Get 100% more instantly on your next deposit, up to €/£/$100 and 50 Freespins on the new game Asgardian Stones!
That was the promo


Ale 08:08:24 pm
Thank you for waiting Colin
Colin 08:08:37 pm
no problem
Ale 08:09:17 pm
It seems that you have claimed this offer yesterday with your deposit and the free spins are still waiting for you on the game Asgardian Stones
Colin 08:10:09 pm
you only sent the email today at 5.05pm, how could i claim it in the past?
Ale 08:10:47 pm
Even though you received the mailer today, the offer was already available in your account since yesterday Colin
I am very sorry for the inconvenience but this offer can only be claimed once
Colin 08:11:41 pm
you sent it yesterday too, so obviously one would assume it was a second offer
Ale 08:12:49 pm
I am very sorry for that Colin
Colin 08:14:28 pm
so will you be adding the bonus, you sent an email yesterday saying next deposit 100% + 50 free spins. I took it. Today you send an email saying next deposit 100% bonus and 50 spins, you can't say I can't have it twice when you sent the email 24 hours or so after I took the first offer
Ale 08:18:06 pm
Colin, could you kindly forward both emails to support@slottyvegas.com so I can look further into this with the relevant team please?
Colin 08:19:48 pm
Have sent both


Ale 08:21:19 pm
Thank you Colin
I will get back to you via email once I get an answer from the relevant team regarding this

Reply next day by email
Hi Colin,

I trust this email finds you well.

Following-up with our previous communication via LiveChat, I would like to inform you that having reviewed your request with the relevant team, they have informed me that the reason why you received the mailer twice is because the offer was about to expire and the mailer was not opened when it was sent the first time.

As an exception in this occasion, they have credited your account with a 50% match on your last deposit, however, please bear in mind for future offers that each promotion can only be claimed once and if it is not showing up in your deposit window, means it is no longer active or was already taken before.

If you have any questions, do not hesitate to contact me either via LiveChat or email.

Regards,

Ale
Slotty Vegas Team

My response
Hi Ale

Thank you for your reply.

That isn't acceptable. I did open the email, or how would I know of the offer. Check my logins and last deposits, was it a coincidence that I made a deposit a few hours after you sent an email offering the offer? Regardless of if the email was opened though, you were clearly aware I had already used the offer, so to send another email almost 24 hours later was clearly a new offer.

I look forward to your response

Colin
Final response
Hi Colin,

Thank you for your prompt reply.

I'm afraid that as previously mentioned I wouldn't be in a position to credit the offer again as this was claimed with your first deposit.

Any bonus match you are entitled to receive with your deposits, would be available in your deposit window and if there isn't any offer showing would mean that it is no longer active or was already used.

I have credited your account with a 50% bonus match as an exception which you can find available in your account.

I do sincerely apologize for any inconveniences this may have caused you.

Wishing you a lovely evening.

Kindest regards,

Ale
Slotty Vegas Team
My point is, I deposited and took the offer almost 24 hours before the second email was sent. Nothing in the T&C's say you can only use it once, not that it makes a difference as there were 2 emails sent. The second email clearly states the bonus was on my next deposit, I could understand if I had took the offer 15 minutes previously, but it was the day before. Its bullshit that I hadn't opened the email, if I hadn't opened it I wouldn't have deposited the previous day.
50% with no spins isn't acceptable, if a casino sends an offer out then it should be expected they honour it, even if they made a mistake (which they haven't said in this case).
Have sent a link to the thread to Betat rep.