Joined

Mar 25, 2014
Location
Hi Have searched but cannot find the answer .
See on a slot lets say Playboy ..You can click to up the bet per spin from like 30p/60p/90p etc ..However you can also make the coinsize make it bigger for example say your on 30p a spin and click the coin from 1p to 2p instead of the 30p to 60p way ..Does it make a difference i will add a screenshot as explaining things is not my best thing lol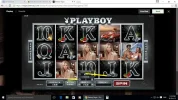 like so does it make any difference.
Another thing .while talking about playboy .When i first started playing it before i unlocked all the features on the first feature for a 90p spin id see me getting sometimes £500 no small amounts it seems since cracking all bonuses this has changed stakes need to be higher .And one more these machines are set rtp but when i lose say a couple of 100 on say 5 different slots each time i go back and have a session i will always get a payout .Somewhat like how pub fruit machines work where you no there due ? Can this happen ..As it seems to happen allot for it to be a quintessence.The other day when playing i said to my partner Jurassic park has taken £250 with no payout its due ..Goes plays it and it pays big .
Same with playboy ..Sorry if ive asked a little much on the one post .