Senior Member
PABinit
MM

Joined

Jan 8, 2019
Location
Not an amazing tale but probably my one of my luckiest sessions.
Yesterday I tried a new casino called NY Spins.
Smart looking site and very simple to navigate I thought - i like simple

Depo £30 and took 100% bonus plus free cash spins on BOD.
Luckily I hit this, with £17 bonus left, on the new Black River Gold after losing the cash.......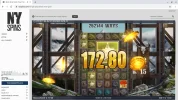 Cash spins on BOD also gave this....
Had a great night wagering and then the balance starts to drop as the wagering draws near and im about £40 left with £100 or so left to wager.
Tired and a bit miffed I staked £1 on Multifly following 30 or so spins of almost nothing on it and the scatters dropped.....
Couldnt believe my luck and with a little wagering left I hit Victorious for a few and after about 10 spins switched to max and got these pretty much straight away and in quick succession to finish.....
Withdrawn, verified and in the bank this morning courtesy of NY spins and Lady Luck