Joined

May 23, 2013
Location
How many times am I going to be dragged to live chat because of "technical issues" or some other bullshit?
This time at Casinoeuro.
I deposited £20 and took a £10 bonus with a 40x wager on the £10 - £400 to wager. After wagering £232 my progress bar was "stuck" at 28% when I had 58% done.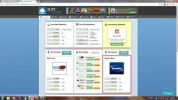 I'll post a brief transcript from the chat.
Robert : Hi, my name is Robert.
Paddy: Hi Robert.
Paddy: I made a £20 and accepted a £10 bonus.
Paddy: Terms state there is 40x wagering on the £10, making a requirement of £400
Paddy: I've wagered over £230
Paddy: And states I am at 28%
Paddy: How is this?
Paddy: It was at 28% and I made 200 spins on Thunderstruck 2 which is £60
Paddy: And it's just stuck at that.
Robert: Hello Paddy. I will check this right away.
Paddy: Thanks Robert.
Robert: Thank you for waiting Paddy. I looked into your account and I see that you need to wager an minimum of 287.60 GBP
Paddy: Excuse me?
Paddy: Why is that?
Paddy: I have wagered over £230 of £400
Robert: The wagering requirements are 40
Paddy: On the £10 correct?
Paddy: Only on the bonus?
Paddy: Just a second.

Robert: Yes of course.
Paddy: Tell me how much I have currently staked?
Paddy: Because it's not £113.40
File attachment upload has started.
The file Current wagering.jpg (451.66KB) was received.
Paddy: Have a look.
Paddy: I've been tracking my session
Paddy: So not only is my wagering not been updated (I'm also being cheated by this I may add), I'm also been lied to.
Paddy: being*
Robert: I am really sorry. Did you also look in your account on Casinoeuro?
Paddy: YES!
Paddy: It states 28% wagering completed
Paddy: Despite it being almost 57%
Paddy: It was 28% before I opened Thunderstruck II
Paddy: I played £60 worth of spins and it was still at 28%
Paddy: And now you are telling me I still have over £287.60 to go?
Paddy: How did you come to that conclusion?
Paddy: You must be seeing that I've only wagered £113.40
Paddy: Which is completely wrong.
Paddy: As you can see from my screenshot from Slot Tracker
I really really feel like if it was not for having Slot Tracker running I would have been screwed or we'd have kept going in circles.
I'm just going to say it outright, I'm finding it hard to believe it wasn't deliberate. Say what you will, but how many other unsuspecting players is this happening to right now? Only I'm not daft, and don't like being shafted.
Casino's make every effort to enforce their rules, so I make every effort to ensure they follow them as much as I do.
Luckily I had Irrefutable proof from a Slot Tracker screenshot! Oh and he didn't even explain why, I had to find out myself that my progress updated after nearly an hour.
So pissed off.