Hello Everyone,
Because u are talking about verification Progress,here is all what u need to know in one clear Screen.Verification Progress
Leovegas
3 Days ago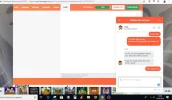 Right bubble -> Me
Left bubble -> Luca Leo Support
We talk quick about Money laundering and why Documents etc needed.
Konversation :
Me : Sure
Me : It doesn't matter from where the Money comes.we good,if we have it,right?
Leo : because u never did a withdrawal we dont need it
Leo : (His professional Answer of my suggestion on top) Does your Supermarket / Warehouse ask your where your Money from?
Me : That statement was great

This show´s clearly that they give a fuck of everything around.Money laundering?Nobody care.Give us the Money and go home.Verification? We got the Money allready...

Just a quick share of experience OC´s Malta !
Cheers