Tried this yesterday and I actually like it, it uses the same Megaways features of cascades and increasing multi in the bonus but also has the same features as the original Reel King.
I pretty sure it's an exclusive at some casinos for now.
I triggered several bonuses fairly quickly but it can go on severe dead runs, my first bonus paid just over 100x for 12 spins.
(It does have a gamble wheel where you can lose some or all spins for extra spins up to a maximum of 25)
I also triggered the top tier free spins bonus not long after my 100x bonus, was awarded the maximum amount of free spins (25) and an initial trigger win of £4 from the Reel King Bonus reels.
If you ever you need a reason NOT to try and gamble for more spins this might be it.
3 extra spins and it only scraped 50x more.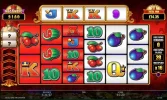 Last edited: