Haha
I just read the complains on Askgamblers about this Casino..
Always the same rule are broken..
Now i saved me by my self with Screenshots..
Ive got a mail.. because of my Withdrawal from 3001€
Ive used 700 VIP points.. bonus money ... and i played higher than 30%
Ive asked the support about this ( before ) i completed the waggering.. and after the waggering i can play higher.. and my max bet was 1,50€ (with bonus)

so not 30%
i asked the support will be there any problem with my withdraw?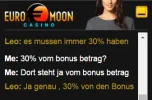 Mike screen ( ME: ive used 700 VIP points.. but ive got realmoney on my account too a support said that will be no problem the vip money will be added to my total balance.. Mike: Yes thats right )

First leo screen ( (Leo: How i can help u? Leo: yes please.. ME: If i completed the waggering i can play higher or? Leo: Yes thats right)
Now i talked with my Account manger Marie.. and she said "oh.. i´ll send a email to the finance deparment i cant do anything.. but i understand u"
They only want to give me 1051€ not 3001€
but i dont break rule.. and if i broke a rule.. its because the support give me a wrong information..