Unofficial T&C's Editor
Staff member
webmeister
PABnonaccred
PABnononaccred
CAG
mm3
I got this e-mail this evening from Red Flush for a 50 NDP bonus. it was from Red Flush, using my correct account details and e-mail address: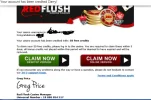 So needless to say my account hadn't been credited at all, so I went on live chat:
You are now chatting with Raquel
Raquel: Welcome to the Casino Dun. How may I assist you?
Me: I was just talking to 'shane' when I got cut off
Me: Your casino username is:
[email protected]
Me: Here is the e-mail:
Congratulations Dun
Your casino account has been credited with: 50 free credits
To claim your 50 free credits, please log in to the casino. You are required to claim these within 5 days; all bonus credits not played within this period will be deemed to have expired and will be removed.
If you encounter any problems along the way or have a question, please do not hesitate to contact our 24-7 support team.
Terms and Conditions apply
Greg Price
Red Flush Casino Manager
Universal Number : 18 888 854 517
Me: The chip isn't there
Raquel: I will check, one moment please
Me: I have lavida ac plus major tom, is it in there not red flush?
Me: they all have same username is what I meant.
Raquel: thank you for holding, Dun
Me: no worries
Raquel: There doesn't seem to be any reference to that offer on any of your accounts, Dun. Could you please forward the email to
[email protected]
so we can check and take it from there?
Me: Great another stitch-up. It's a direct e-mail I've just copied it to you here.
Raquel: we need to see the original please, Dun
Raquel: and query with our Marketing team if need be
Me: How long will this take?
Raquel: We will give you an answer within 24h. Our Marketing Team is not in at the moment so we will not be able to check with them at the moment, opnly at 9h when they are back in.
Me: OK I'll forward it thanks.
Right, I have defended this lot vehemently up until now, as they hitherto treated me fine, paid me fast etc. This is the last straw. The terms linked in the e-mail just state that if I have made less than 10 deposits it has a max free chip cashout of 250, over 10 500. Usual WR etc.
I have ignored the 'batshit crazy' (as Chopley put it

) promo terms up until now, along with the downright misleading 3000 max bonus ones, but this is complete nonsense, their promo/e-mail system to existing customers like me is obviously in complete and utter chaos and has been for a while, and NOTHING is being done about it. I have heard people complain they shouldn't be accredited in other threads, and I have always supported them by mentioning decent CS and relatively quick cashouts, but even I am beginning to doubt the wisdom of keeping my RF group accounts open.