Forum Cheermeister
Staff member

Joined

Jun 30, 1998
Location
I am putting the finishing touches on our Casino Software reviews, and I'd like to know what categories you'd like to see listed as being rated. I am looking at a max limit of six categories. This way I can give each casino software a proper numerical review number (much like I do with the casinos). I am looking at the following:
1. Innovation
2. Variety of platforms (Slots, Video poker, table games, etc.)
3. Aesthetics (graphics, appearance, etc.)
4. Availability (licensing jurisdictions - languages)
5. Responsiveness to player input
6. ?
This is an example that I have in the casino review section. These shields are based on what I have here:
https://www.casinomeister.com/rating-system-explanation/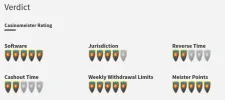 What am I missing? I know I did not list fairness - I'm not an auditing company,

but if there is a way to include this somehow - I am all ears.
Suggestions????

Last edited: