Joined

Sep 23, 2016
Location
Am having a lot of trouble trying to access CM today.
The landing page does not load at all, or it takes forever (and I mean forever!) and then freezes
When trying to log in, the page freezes.
When I reach the Forum site, I am presented with an unformatted page (screenshot attached).
When typing this post, I received a message across the screen that the CM site might be having trouble today. It was too quick for me to take a screenshot, but suddenly I was taken to the post by Pereblue about the new format.
Trying to add a screenshot, and I get the dreaded 'Oops" message.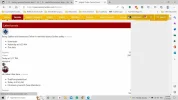 About had enough of this site for today, due to the unremitting slowness and errors.