After seeing their name mentioned in another thread today, I thought I'd make a deposit at Trada.
I never get any emails from them. So to be honest I'd almost forgotten they existed.
Now I wish I hadn't been reminded about them.
Made a £100 deposit and got 40x£1 spins on some new crappy game and won £18.xx. but that's by the by.
Opened IR, It loaded the mobile version, which wouldn't work using my 'mouse' cursor. So I had to use touch screen, set the stake and pressed play and got an error message. But not only that, it somehow corrupted my touchscreen, which stopped working. So I had to reboot my laptop.
Tried again and this time I got this screen....

So I moved on to TSII, again I got the mobile version, which won't work with the cursor, ONLY from touchscreen. Do you know how awkward it is using a touchscreen on a laptop when there's only a tiny game window, meaning the spin button is almost in the middle of the screen? you have to hold your arm in mid air.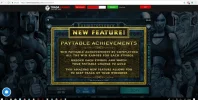 Thankfully my money didn't last long leaving me with 19p to get rid of. So I loaded up Thunderstruck. it was the mobile HTML5 version again. But I thought now it's loaded I'll get rid of 18p. No chance - the minimum bet was 90p
So I tried Reel Steel, since that's still flash and has selectable lines. No way.....
So I gave up and went to my account to look for an option to cancel the bonus, and couldn't find anything. So I gave up
Mobile games are fine on a mobile, assuming you want to ruin your eyesight. But they're no good on a laptop, if you can't use the cursor to play them. And if you're going to get rid of all the games which have selectable lines, which can be used to zero a bonus. At least have a bonus cancel option
Rant Over