[MODERATOR NOTE]: This thread contains accusations and assumptions that appear to be incorrect. The official response to this thread can be found on Page 8
Hello,
Recently NickSlots, Posted a "Huge Win" on his YouTube channel.
Book of ra deluxe was the slot.
Rizk
was the casino!
Please watch the video and then you will see he's playing book of ra deluxe from rizk.
Now, NickSlots is in the UK!
Book of ra deluxe is RESTRICTED in the UK!
Proof: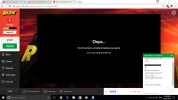 So how can NickSlots Possibly have a huge win on a game he is restricted to play?
I asked rizk on live chat and they said "We cannot comment on this, sorry!"
He is the main live streamer for rizk.
This is fraudulent and WRONG.
NOTE: I COULD NOT INFORM THE RIZK REP VIA CASINO MEISTER FORUM, MY ACCOUNT DOES NOT HAVE THE APPROPRIATE PERMISSIONS TO ACCESS THE PAGE.
NOTE 2: I CONTACTED RIZK VIA LIVE CHAT ON THEIR WEBSITE AND ASKED THEM TO FORWARD THIS FORUM POST WEB LINK TO THE REP AND THEY SAID THAT'S BEEN DONE.
Edit: Apparently NickSlots uses a "Rizk Skrill Account" registered in a Nordic country so he can deposit/withdraw funds but they never go into his hands/bank, He plays with Rizk's money and uses their own account, So he isn't committing fraud, but he is lying and deceiving people on a huge level, this may or may NOT be the case, but either way I am posting this thread to expose the lies, dishonesty and inappropriateness of his actions.
Last edited by a moderator: