When it comes to gambling, timing is everything.
Joined

Feb 24, 2018
Location
Hi, Sorry if this is in the wrong place, quite new here, if it is please can a mod move it to the correct place.
Pokerstars are doing a new promo which my partner is interested in but im wary as i was stung by them recently with there terms and want to run it by you guys.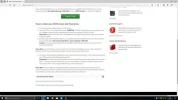 I read this as if you deposit $100 you will get $300 of locked bonus funds which is tied into 600 pts of wagering eg 3 x $200 of bonus received.
However when i took a similar bonus which was worded exactly the same they said no its 900 points as the 3pts is on the whole $300 and not just the bonus amount of $200.
Who is in the wrong here??
Should she risk signing up and getting it? or avoid the hassle ? she just fancied some slot action and likes the 600 option but the 900 would be very hard.
Also if she did deposit and it did turn out to be 900 to wager would she be able to cancel it due to misrepresentation on bonus terms, providing she did not wager anything before contacting support.
I have asked poker stars support but just got a generic answer about here are the terms link blah blah even though I asked them the exact specific question.
Thoughts and comments please.