Hi guys,
Just a kind update because this week we will refresh All British Casino (Thats about time Jan, yeah I know!) and a lot will change:
- Day and night modus
- Provider search
- Select game themes
- Speed
- Overall UX is improved
Now there is one decision made that leads to a long downtime/maintenance window. We are going to update all our games thumbs. Thats like 2000 images to be updated. So we aim to apply these images asap and when satisfying level is reached, we open the site. Bear in mind, it's possible you could be missing a favourite game for a day or two. Sorry for that but we will work as fast as we can!
Sneak peak: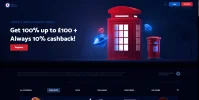 So don't be scared when you see a maintenance message this week or a new site all of a sudden, it was all planned

Questions, shoot!
Kr. Jan