Hey all, not my ideal first post as nobody likes the guy complaining with his first post.. But I'm a long time lurker and there's no other forum a question like this would be most suitable. Hope this is in the right place, sorry if it isn't mods.
I have been with neteller for a few years, I lived with the fee's going up every quarter, etc, just because it 'was' indeed a very easy way to withdraw and deposit into the casino's that I play at.
..Until they stopped my card(Net+).. I felt really annoyed of course, I paid for the card and used it often to gain points or to 'quickly' use winnings in an EFTPOS transaction.
At that point, I decided to cut my losses and withdraw my money, after an hour of searching through the account page.. I realized my only option was to eat hefty fees for the small amount I hadn't deposited back into casinos..
After 12 days, It finally hit my account, except it was $15 short.. I called the bank and they confirmed that they hadn't added any fees and I got the exact amount credited to my account that neteller sent. I called neteller and felt like I was talking to a brick wall.. This is all on principle now, not the amount I'm getting or have lost, but a sense of injustice.
I have added a picture to anyone confused about it all as I'm not the best at crafting beautiful sentences together -> (I have blanked out the things like balance on my bank and account numbers.)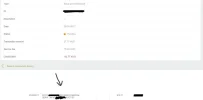 Am I just out of luck? To me it really feels like they just charged $15 twice, as that adds up to exactly the same balance as I got and yes I'm very sure my bank doesn't charge their own fees, like I said above i've double confirmed this with them.
Thanks for your time.