hi, i was not able to locate the appropriate casino rep, the url linking to the page to find them doesnt work inside the forum rules section 2. Please help me out:
Hello, I have a disagreement with N1Casino. I registered with them yesterday and placed my first deposit. I got a new registration bonus, so my € 50,- deposit got 150% extra, totalling into € 125,-.
the wager for the free € 75,- was 50x! A bit steep, but it was clear from the start and I started playing.
after a good run I was able to clear my wager 100% and was left with 2325,- in my account.
My verification process went well, id, utility bill copy and proof of deposit got accepted.
Not too long after my withdraw request I received a message I didnt comply with the T&C of the Casino.
somewhere in the T&C, way down, they mention you are not allowed to place bets over a € 5,- limit when a bonus was added.
I think in my case this is not reasonable. I have been playing that night and even had a chat with Felix from support about my limits, and asked him how to clear the wager. (I actually wanted to quit when I was ar & 700,/ already but didnt hit my 50x wager). I Then started to bet strong and took high risks in my games to try and clear the 50x wager. It was only after I got even more lucky, and tried to withdraw, that I Iearned you are not allowed to bet over € 5,- per bet when in a bonus game when they cancelled my cash out...
It was not mentioned clearly before on the website, neither did support take the oppertunity to inform me when I asked how to cash out earlier.
Also there's no technical block / limit to my gameplay to prevent betting over €5,- whatsoever.
I'm a senior web developer myself so I understand how easy it could have been for them to set things up to be clear and prevent the issue from happening (Playing over the 5,- bet limit rule jn their t&c).
I'm sure its not legal enough to only just mention this "rule" of a €5,- max bet when a bonus is applied.
I prefer not to go complaining with all the shops and apple store (where i downloaded their app), or gamble review platforms etc, I'm hoping to work things out with a n1 official.
I would have never played the way I did and took all that risk to clear a 50x wager if it was clear to me I was not allowed to place bets over €5,-, I would have placed smaller bets...
anybody knows what I can do to resolve my problem with n1casino?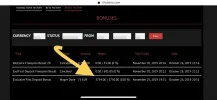 Last edited: