Hi
I'm not an expert on URLs, but I'm a bit worried about the Casino's URLs for the Netent slots. It should be said that I have experienced a lot of funny behavior of the slots at this Casino.
I would really appreciate if someone could help me "decoding" the URLs I've attached. I needed to attach them in screenshots when they are insane long. Both the attached screenshots are for Netent's "Invisible Man" - the same game but 2 very different URLs.
i'm about to file a complaint to the casino due to a lot of other matters, and would appreciate your feedback on this matter.
Thanks in advance!
Anne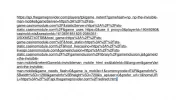 Last edited: