Joined

Apr 22, 2022
Location
**PAB had been raised but agreed with Maxd to close as
MrVegas
was refusing to divulge any information to him (or me for that matter)**
Hi All,
Sorry for the lengthy post.
I require some assistance please regarding Mr Vegas not crediting winnings of £3800 (plus bet?) from a CrazyTime win.
Incident date: 08 April 2022 @ 00:25
Bet amount: £38 (of a £248 total)
Proof: Screenshots (I do have all chat Logs and emails)
UK (England) based player.
On the early hours of the morning of 8th April I was playing CrazyTime (yes I know people scream scam, so let's leave that out of this please)
After a number of bets losing and winning I built up a decent amount to decide to go all in and call it a day (was in bed playing the game)
I placed a total stake of £248 across the board.
Taking screenshots of the play ready to brag to my mate.
Much to my shock and joy CrazyTime dropped in with a £38 stake. Still taking screenshots the door open-end to the mayhem behind it.
I selected the yellow wedge and watched the guy spin hit the button and crossing fingers for either double or a big win.
Result was 100x. I was not disappointed £3800.
The x100 was even displayed against my ticket with the £38.
Game returned back to the wheel, but no winnings were credited.
After a but of a WTF moment, scrambling to turn light on and grab my glasses, contacted Live Chat with CS.
I explained to them the issue, and provided screenshots of each and every stage of the bet, all with the timestamp in the bottom corner of the screen for that game round.
CS: I cannot see the bet being registered in our back office, I'll forward this to be checked by our games team who will contact evolution gaming to check the round and hopefully it can be easily fixed then and the wins added."
Me: how long it would take.
CS: It can take some time, like from 1-3 weeks, the customer round checks take some time depending how fast the provider can check the rounds, evolution gaming is usually quite fast so hopefully not too long.
I stated to her that you can see the bet was placed and accepted in the images
CS: Yeah that's true, good you took the screenshots for proof, we'll get back to you via email at the earliest once we hear back from Evolution gaming. It does belong to you, so hopefully we can sort it out at the earliest without issues

Me: Is there a reference number for this issue, or do I need to raise it as a complaint and how do I get chat transcript.
CS: It will be linked to your account so you can always come to chat to ask for an update or email us, You can find the option for the chat transcript in the menu with 3 dots on the bottom-right corner. After clicking the "Email transcript" you get one more pop-up asking for a email address where to send the transcript.
I thanked her for assistance and closed chat - this I thought was me contacting as a complaint & at no point was any guidance given to suggest otherwise.
Few days past and then I contacted CS again on 11th and 13th no update as yet.
14th I contacted again, no update but also I enquired as I had not received any communication/acknowledgement of my complaint and told them that I was lead to believe it was a complaint.
The CS advised they would go through the chat logs and email me back.
This did not happen.
16th I contact CS asked as to why I haven't been contacted in regards to update and acknowledgement of complaint, advised no update team operates on a ticketing system and had no further update. In regards to compalint they said that they added a note and someone will be intouch.
Due to ill health, I couldn't contact them again until the 20th April - once again no update and nothing stated on my account.
22nd Contact CS again:
CS: at the moment there is no update, I see that we have requested an update, unfortunately we cannot give a time scale on this but aim to get back to you regarding this via email as soon as possible
I will also put this information once again over to our payments team
Me: It's been two weeks and I haven't received any update what so ever from anyone - promises of emails from CS have not materialised.
I was also promised by a previous CS that this was recorded as a complaint due to the nature of the issue - I've had no acknowledgement or feed back when that agent promised it will be handled by her and I will be emailed
CS: There is a queueing system and for sure you will be updated very soon
Me: So where am I on the queue?
I'm sorry but Very soon = mins, hours, days --- not weeks
CS: I dont have this information but I have addressed this as an urgent matter
Rest assured we will be back to you regarding this matter
Me: If you know there is a queue why can I not be told where I am in the queue / expected time frame etc
But after two weeks it's been me contacting each and every time
CS: We do not have the timeframes
I have noted you as urgent and raised this for escalation.
The payments team will be looking into this and get back to you accordingly
Me: Payment team?
I was told it's Game Team, Nothing to do with payment team
CS: They will send you an email once this has updated.
Me: I was also promised by a previous CS that this was recorded as a complaint due to the nature of the issue - I've had no acknowledgement or feedback when that agent promised it will be handled by her and I will be emailed --- has this been actioned
CS: We have put your case forward now we have to wait for the update, the moment we know we will inform you
Me: So it hasn't been raised as a complaint?
CS: Your case has been raised as urgent, I will also raise this as a complaint
Me: There is a difference between putting a case forward and complaint - each will have a different reference number
Do you have any reference numbers relating to this?
CS: I am now putting this complaint forward. We have all the notes from your account regarding all conversations
I received an email on 25th April stating complaint has been logged with a ref number and back dated to 8th April.
Every couple of days I contact CS again either twice or three times a day for an update - met with the same stuck record as we don't have an update but we will escalate it, but still don't hear anything.
But various agents saying yes they can see from the screenshots the bet, the game round and cannot see any reason not to be paid so i haven't got anything to worry about.
Fast forward to.20th May.
Contact CS again.
No update from the game team, so I asked about my complaint.
She advised that they have 8wks from 24th April for resolution. I queried this and advised her that the compalint was supposed to have been backdated to 8th April. She said she could see that in the note but it had not been done, so was now raising a complaint about this (yeah a complaint about a complaint about a complaint you can't make it up!)
Again over the next days contact CS every couple.days - same answer.
26th contact again and it's the same agent from the 8th.
She tells me that they had a response from Evolution but are now querying this as the game data does not match my complaint.
I asked so despite screenshots with time stamps they are basically saying I'm lying?
She advised that was not the case, but cannot be specific details about the internal investigation on it.
She went on to say that once the investigation is ready, at this moment I do not have more updates about the win. Hopefully next week at some point we'll have it added for you in the full amount.
Again I chase 30th, 31st and the morning of the 1st June, and yet again no update.
Then on the afternoon I get an email from "customer experience"
It said:
"We hope you are well.
We are contacting you in regards to your complaint raised with us on the 8th of April.
We want to firstly apologize for the time length it has taken to get back to you in regards to your missing win, however we kindly ask you to understand that some cases are more complicated than others and in some situations we need to check with different departments until we can considered resolved the matter as well handling other cases at the same time.
In regards to your issue in Crazy time, please note that after raising it to the provider we were confirmed that the bet of GBP 248 was rejected due to insufficient funds. We then proceed to investigate your balance, bets and wins between 2022-04-08 00:19:07 GMT & 2022-04-08 00:54:34 GMT to make sure there was no irregularity. In the previous round you had a balance of 265,22 GBP, placing a bet of 192 GBP the balance lowered to 73.22 GBP after which it increased to 193.22 GBP after a win of 120 GBP. It was at this point when you tried to place the 248 GBP rejected bet which was rejected and funds returned due insufficient balance, which in fact was not enough.
In the screenshot provided the balance shows however that the balance was 250.22 GBP this being result of either a visual glitch/ connection error.
In any case the bet was never accepted by the game provider as there were no funds
.
Should you have further queries please feel free to contact us again."
Now this really has pissed me off
As you can see in my screenshots the bet was placed, the game round played out.
Meaning there was no connection issues or insufficient funds.
When you try to place a bet on CrazyTime with insufficent funds' you get a "Balance to low" message as shown in the screenshots I took yesterday.
To say the balance was a visual glitch is a piss take as well, this was built up from various bets placed.
But low and behold all game information from 00:19:34 to 00:27:43, which conveniently includes the round at which I won £3800 (round commencement 00:25:47 round end 00:27:43) is missing.
Now I haven't responded to this email.
It doesn't mention anything about escalation or who I need to contact or even if it's a final response.
So at the moment I'm in limbo.
Do I email them and wait another 2mths for them to respond.
Do I contact UKGC?
Do I contact IBAS? (Who are they and what do they do)
Attached is you will find 7 screenshots relating to the bet (all time-stamp 00:25 to 00:27) on the 8th and 3 taken yesterday to prove the balance low message.
(Just so happens change of dealer yesterday from a female to the bloke from the 8th)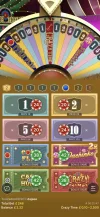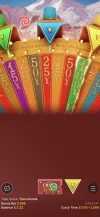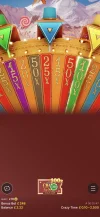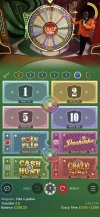 See Related Threads:
Last edited by a moderator: