Joined

Oct 2, 2015
Location
I have seen a lot of threads about this topic and it is a very hot one. Whilst you have always been able to ask through live chat to have your withdrawals "locked" we have now added the capability for you to do this yourselves. I wanted to make sure that all CM members that request a withdrawal at
Rizk
are aware.
Once you have requested your withdrawal if you go to "my account" and select "transactions":

You will then see your list of transactions including any withdrawals. Here you have the option to either "cancel" (reverse) or "Lock" (flush) your withdrawal:

If you click on "Lock" then you will shown this screen.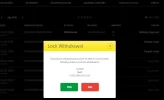 Click on Yes and job done. The transaction will then be marked as "waiting approval"
We will of course make every effort to process the payments as quickly as we possibly can but this is a sure fire easy way to stop those itchy fingers whilst we do.
We believe that this is just another obvious and "No Bullshit" approach.