Forum Cheermeister
Staff member

Joined

Jun 30, 1998
Location
Hiya peeps!
We are pending a major forum upgrade that is really pretty freaking awesome (in my opinion, of course). I have been nerding out with the new functions on our test site, and I think many of you will enjoy some new features.
Unfortunately, one of our plugins is causing conflicts in the templates, one of which is one many of you (to include myself) use frequently. It's the stats on the main forum page here;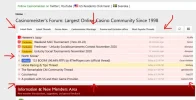 That one.
So instead, we will have to resort to what most everyone else uses - the New Posts and Find Threads tabs located here:
Actually, you will probably thank me for this once you start getting used to using those tabs.

Anyway, I am looking forward to having this upgrade launched shortly. There will be some downtime of about 30 mins to an hour when it happens. I will let you know.