Joined

Jun 6, 2013
Location
So I just deposited a lot at
Leovegas
again cos I wanted to give Holy Diver another chance.
Yes I know I said I would not play it again. But who does not say they will not then still do lol, not the first lol.
Anyway, so I finally triggered the feature after it taken like 700+ spins and loads of deposits, the spins started and on the first spin the slot frozen just as the reel 5 and reel 6 was about to stop. The first 4 reels stopped then it froze after that, so during the first spin.
So I thought ok, lets just refresh? So I refreshed and the game now wont even load. Well I get the splash screen but nothing more. It doesn't load after I click Continue button.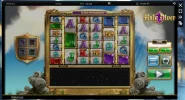 So as you can see, it just has greyed out effect and the slot does not load.
So I went to support and they said they have to raise it with the provider. They also told me to take a screenshot of a website that shown my specs, which I also done. So I am asking if there is a rep or if the
@Big Time Gaming
rep can step in and find my hung game round please? I would appreciate it.
I also sent the
@Big Time Gaming
rep a PM
Thanks