I contacted support 2 or 3 days ago because it hasn't been working for several days already and the CSR lady told me that "it's working fine" (typical). I tried to explain that it was working fine until you click to see the result of a spin but I'm not sure if she understood. I didn't insist because it *could* be on my side. Here's what I get...
I can get to this screen:

But then when I click on "view" I get this: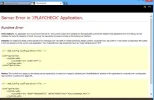 Am I alone getting that? It looks like a server issue to me?