Joined

Mar 25, 2012
Location
OK then, be honest now, at which point would you catch on that this is a post-wager bonus?
Here's the email.
And like a sensible player, I clicked on the terms and conditions link.
Yes, clause 7 is the one to watch here, but even after reading it I still figured it was a deposit bonus and that they were talking about a wagering requirement.

This is what I ended up with.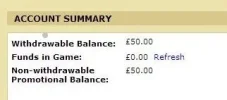 Fired up Cleopatra 2, £50 balance only, busted out very quickly on 60p spins, back to the cashier and the £50 promotional balance was still showing as just that.
Decided to double-check with live chat.
Fair enough it's ultimately my own fault, I took the email at face value, gave the T&Cs page the benefit of the doubt, and then realised that I'd taken on a post-wager bonus which I absolutely hate and would never have done so if I'd realised that's what it was.
However, I do feel that the promotional email is into the realms of deception. It absolutely isn't a 'DEPOSIT MATCH' and they are not 'offering an amazing 100% deposit match on your next deposit that you make up to £50 when you play one of our Egyptian themed games today.'
Oh well, I feel a bit suckered and stupid, truth be told.
Needless to say I will not be unlocking my AMAZING 100% DEPOSIT MATCH with the £1402 of wagering I still have left to do.