A little mix of Dutch and Irish
PABaccred
webby
CAG
mm3
Joined

Jun 3, 2013
Location

For people who do not know (much) about Ireland I will try and write a small article here about this beautiful green island.
First of all the island is politically divided between the Republic of Ireland and Northern Ireland which is part of the United Kingdom.
This is a map of Ireland, both the Republic and Northern Ireland.

Ireland is divided in 4 main provinces and within those provinces you will find several counties.
Each province has it's own crest as shown below.

Leinster: consists of following counties: Carlow, Dublin, Wexford, Wicklow, Louth, Kildare, Meath, Westmeath, Kilkenny, Laois, Offaly, Longford.
Munster: consists of following counties: Clare, Cork, Kerry, Limerick, Tipperary, Waterford.
Connacht: consists of following counties: Galway, Leitrim, Mayo, Roscommon, Sligo.
Ulster: consists of following counties: Cavan, Donegal and Monaghan in Ireland - Antrim, Armagh, Down, Derry, Fermanagh, Tyrone in Northern Ireland.
Roughly 5 million people live in the Republic of Ireland and around 2 million people live in Northern Ireland (2018 census).
Dublin
is the capital of the Republic of Ireland and
Belfast
is the capital of Northern Ireland.
At this moment the border between the 2 countries is open and one can travel freely between the south and the north and vice versa.
How this will go after the
Brexit
is still a big question mark.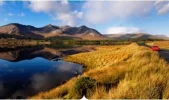 The climate here is very mild and due to the frequent rainfall the island is covered in lush vegetation and hence it was given the name
emerald isle
.
The winters are in general quite mild with very little frost and snowfall as temperatures seldom drop below freezing point, some exceptions on the side.
This is of course due to the fact that we are mostly influenced by the weather from the Atlantic ocean which mostly generates a mild climate all year around.
The summers are not overly hot and are quite pleasant when the sun comes out, in general from May until August you have the best chance of decent weather.
Last year we had a fab summer with average temperatures of up to 30 degrees celsius and a long spell of draught and this year is not bad either however we have significantly more rain than last year for example.
During the year we also are hit by one or more major storms.
If you are planning to visit Ireland be sure to take clothing for all seasons as the weather here can include all 4 seasons in a day.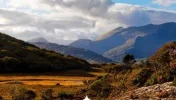 The official languages in Ireland are
English
and
Irish (Gaelic)
where most schools here have Irish as one of the subjects for kids to learn.
I have tried to learn it but it is quite a challenging and difficult language.

My kids do get it at school so that is a good way for me to pick some words or sentences up.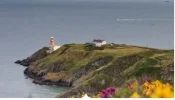 Ireland has a rich history in music and arts and are a very important part of Irish culture but I will write a separate blog about that as there is so much to tell about it.
Also food wise there is a lot to discover in Ireland and I will come back about this too in a later post.
This is just a little bit about Ireland and I will keep adding to the story in the coming weeks.
I hope you guys will enjoy this thread as I will go deeper into Ireland's culture and history.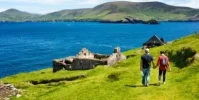 Will be continued soon!!
For now,
slán