I was in two minds about posting this up yet because I'm still unsure of what steps to look at next but in light of the other Intercasino post I thought I would post what has happened to me / my account there this last week.
I've been a player at Intercasino for years and am currently a VIP player there, deposited and withdrew large amounts over the course of my time as a player there, was even sent a lovely champagne package over Christmas.
I received a 100% VIP bonus on the 28th of January (£500). My bonuses used to always come with a max bet of 25% of the bonus rule and it wasn't showing on this particular bonus. I emailed CS before depositing as I knew that they had introduced a max bet rule of £6.25 for slot spins on their bonuses. I almost always bet in the region of varying stakes from £10 to £50 (Even £62.50 on one game in the past where I have won £22,000 and cashed out with no issues) so wanted to see if my usual play would be accepted before depositing.
I was looking at the terms for this bonus, usually my bonus offers state "No bets allowed that are more than 25% of the bonus amount" but this isn't stated in this one.

Can you let me know what the maximum stake amounts are on slots and table games please so that I don't fall foul of any of your terms/rules.

Kind Regards
Quick reply from their customer services was as follows...
Thank you for contacting the InterVIP Support Team regarding the bonus terms and conditions.

Please be informed that this condition, as you may understand was introduced in order to prevent bonus abuse.
It is only implemented upon suspicion of abuse.

As you are a VIP at InterCasino, this condition does not apply to you. Please feel free to play as normal.
Please note the bolded part as this becomes my main gripe with how this proceeds.
I then deposited my funds and played out the bonus, initially betting £40, £20, £10 and then back to £40. I hit a huge win on Chilli Gold (first reel was random and all other 4 reels full of wilds!) and then played out the rest of my bonus requirements at £10 a hand on Platinum Pyramid. Winning screenshot below.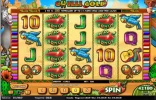 I eventually cashed out £11,496.42.
On the 4th of February I received the following email, detailing me about my funds being confiscated...
Kindly be advised that your pending Moneybookers/Skrill withdrawals have been voided and your winnings have been confiscated due to a breach of the terms and conditions of the activated Bonus (Bonus ID:2727). Specifically the terms and conditions stated below:

Zero tolerance for bonus abuse and/or bonus fraud:

- Two tier betting
- A pattern of betting using bonus money in which a significant proportion of single bets are more than £/$/€ 6.25 in slots or more than £/$/€ 25 in table games
So this is where all of the issues with my experience start, after a few emails back and forth with them they are adamant that they are sticking to the "Two Tier Betting" rule, despite them clarifying first that I can "feel free to play as normal".
I emailed them back, stating about my previous play being exactly the same as this and them never having an issue with it before, plus the fact that I was told to play as I normally do on my account, receiving this reply...
Thank you for your feedback and for raising your concerns regarding both your previous sessions and the decision that was taken yesterday.

Any gameplay pattern that would not be in line with our terms would be looked at, in light of your loyalty it may have been disregarded as previously explained but if the pattern continued and was linked towards what would be considered as bonus abuse we would need to proceed as we did.

While we can appreciate that this may not have been your intention the removal of the winnings had to be enforced on this occasion and we hope that you will not experience a similar issue going forward.

InterCasino has been operating for more than 18 years and we are always happy to send winnings back to our players without whom we could not still be one of the top casinos online, I have also attached a list of withdrawals successfully processed on your account since 2014; you will note that the amounts were as high as £10000 (the maximum per transaction).

In regards to the previous communication and our allowing you to play normally, which by definition would not allow other sort of bonus abuse such as two-tier betting.

We are sorry about the inconvenience this may have caused but look forward to congratulating you again and process any withdrawal you may request.
Over the last 12 months in particular I've played in exactly the same way as I have in this instance, either betting a mix of slot stakes and cashed out with no problem so I don't see what the issue is with this one. They've even sent me a detailed list of all of my withdrawals previously that I have had with them playing in exactly the same way.
I've played and lost in the region of £10,000 playing exactly the same way with them since around October/November 2014. I received a £2000, 100% match just before Christmas and played a mix of £25, £200 and £300 stakes on Bacarrat and lost it all so should I expect them to return these deposits?
"but if the pattern continued and was linked towards what would be considered as bonus abuse we would need to proceed as we did."
So why not inform me of this when I am losing thousands playing in the same way? (Maybe we all know the answer here

)
In my eyes they should not be allowed to selectively only refer back to this stuff when it suits them but the most infuriating thing about this instance is that I was told to play as a normally do and have then had an amazing win confiscated. Along with the other post about 38,000 euros then it seems to be a nice money earner for them as they take players losing deposits but also confiscate their wins.