Forum Cheermeister
Staff member

Joined

Jun 30, 1998
Location
I just got back from a trip out west - had some family gatherings, triple digit temps, and a tropical storm to boot.
This first shot is of a rocket being fired from Vandenberg Space Force Base. I had not a clue what is was - but it made no sound, so I knew it was probably a rocket of some sort. I found out later that it was more of Mr. Musk's space junk. lol
This is a ten second exposure looking west: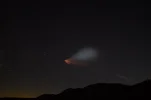 And here is a shot of the Perseids that I was able to catch in the wee hours

And the moon a little over a week ago:
And chill time as well....
So yes, I'm back in the saddle again