Joined

Dec 1, 2017
Location
.. this is something new

I was playing on casinoluck and did get a "todays special" offer, 5 free spins on super flip.
Accepted and auto pilot in brain when online.
2 spin i got full line of stars on line 3, did not even think about it just keep push the button, but some micro second later my brain says - Hey, wait a minute, should that not been a win?

So i check the screen on next spin, and to my supprice its 1 line 1 cent spins they gave me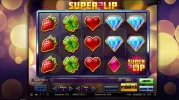 I figured that its was some technical issue or .... the casinos can't be this stingy

So did ask live chat if its was supposed to be this way?
And the answer was, yes its correct, 1 line free spins

Have a great wednesday ppl, this made my day