Seeing as there is a thread for nearly every topic related to online slots I believe I may have discovered a missing or, possibly not wanted, discussion to show off screenshots relating to your abnormal or ridiculously large total amount of free spins awarded from a bonus being triggered.
I believe this probably won't be a thread that will get frequent posts, thanks to the fact slots are generally reluctant to cough up the bare minimum of free spins anyway.
I felt I needed to share my recent experience and as my screenshot doesn't really qualify for the existing screenshot threads thanks to not paying 1000x or even being worthy of posting it in the monthly screenshot wins thanks to it paying out less then 100x my bet amount unfortunately, but if admin know of a similar thread long forgotten and neglected that I wasn't able to find then please delete this one.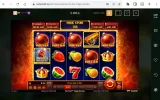 BTW it paid me a grand total of about $17 and $10 of that was thanks to the minor bonus being awarded so 95% of the free spins were dead on arrival unsurprisingly.