Here is the case ... I played at astralbet casino yesterday since my fellow countrymen have finded that casino ok.
I lost my 1st deposit and thats it.
2nd deposit you get 99 free spins. I made deposit and played spins. won just under 70 euros.
Then i started playing with my OWN CASH balance like their terms say and managed to raise my balance to allomost 300e without ever touching bonusmoney.
I wanted to withdraw since their terms say that player can withdraw cash balance at all times but no way.. couldnt withdraw and their support says that that rule doesnt apply on free spins bonus winnings.
What i think they should mention it in their terms and conditions, right ?
So what are my chances against them ?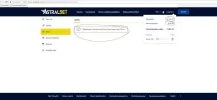 In case you dont speak finnish

Rahasaldo means cashbalance
Kampanjasaldo means bonusbalance
Last edited: