Joined

Jan 8, 2019
Location
I had an email from Calzone advertising this slot so visited Relax Gaming's website and found this info.......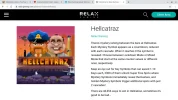 You can choose between 2 volatility modes apparently. The most being called 'lockdown'

Anybody played this yet? Thoughts?
Sorry I am a slow learner and didnt know how to do one of those fancy 'new slot announcements'.