WebMeister & Slotaholic..
webmeister
PABnonaccred
CAG
MM
Joined

Aug 25, 2004
Location
Blueprint feels like style over substance, great licensed games but death by a thousand spins. Genie MW is the exception in that it's got a stale base game, despite the Megaways IP, and absolutely shocking bonuses. Only one of those is viable as far as I've seen, the 'Unlimited Multiplier' that's capped is by far the worst of the bunch, when it ought to have been the crowning glory.
What do you mean "the 'Unlimited Multiplier' that's capped"

This is the only one that can re-trigger - potentially indefinitely... if you believe it's truly random

The best I've had was up to x35 so far.
Worst game you could ever buy features on as majority will pay less than your buy.

Like the slot but i think the actual bonuses are poor. I find the genie wishes from the lamps are the way to win on this game. All my best wins have came from them. Had a few good bonuses but when i hit a bonus i expect it to pay 20x bet or less.
Ain't that the truth!
My "buy a feature" results have been truly SHOCKING - it's hard to imagine the game would reach it's TRTP if you ONLY bought features.
But I guess mega-wins are possible, if extremely rare - so they have to take a load of cash from 100's of crap buys to pay for those...
I always thought that if the Bonus Megaways was picked at the Random Gene Bonus then it was a certainty to drop at least 3 scatters, I've always had 3 or more scatters when it has.

But tonight on 4 occasions in a row I got the Bonus Megaways via the genie and every time only 2 scatters dropped in, and the base game was dog shit as usual.
I fell into the same trap! The first dozen or so times I had bonus megaways I ALWAYS got the feature - I've even had 5 or 6 scatters a few times.
But then suddenly I had 3 or 4 in a row only give 2.
That's the ultimate prick-tease - bad enough the Genie popping his head out, then disappearing back into his lamp - but to give you a feature which then gives you absolutely NOTHING is gut-wrenching

Having said all the above... I actually
LOVE
this game!

Yeah it's fricking annoying 99% of the time, but it's given me a lot of VERY nice wins.
Last night was the crowning glory: a random Genie gave me a "Genie Win Spin" and more than half-filled the screen with the top-pay symbol.
Bet x 1,000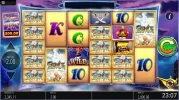 KK
Last edited: