WebMeister & Slotaholic..
webmeister
PABnonaccred
CAG
MM
Joined

Aug 25, 2004
Location
I'm "old school" and have always thought it totally RIDICULOUS the amount of memory used by modern phones and other devices to make just one picture - usually several Megabytes

Nobody (except professional photographers) needs pictures of such high definition - you definitely don't need it for a screenshot of a slot win!
Not so many years ago, memory used to be a very expensive and valuable resource - now it seems that no-one cares how much they use

So anyway - I reckon it takes me less than a minute to take a shot, paste it into Paint, reduce the width to 680 (I do this with all my shots) and save as JPEG. I know it's more tricky on phones, but it's simple on a PC.
None of my shots are over 200K.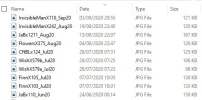 Anyway - whatever. Peace & Love to all

KK