Joined

Oct 25, 2006
Location
My missus had a very strange issue with this slot this evening. She was playing £1 stakes, and noticed she hadnt got a win for many spins, then noticed she was getting the exact same symbols landing over and over again, each time deducting £1 from her balance. I videoed about 4 further spins, then left the slot.
She has emailed 21 Casino, but I have never seen anything like this before, must have been £60-£80.
Here are 4 screengrabs from the video I took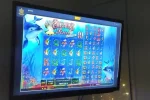 Hope they manage to reimburse her.