Unofficial T&C's Editor
Staff member
webmeister
PABnonaccred
PABnononaccred
CAG
mm3



Oh, it really is silly season. More unsolicited illegal spam, non-compliant etc. etc....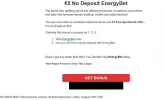 Here's the affiliate link and please can the Energy rep get me an e-mail addy to forward this crap to.
*****//news.s4pnetwork-mail.com/NLI/LE35.ashx?a=A23F724DF96AB31A05F5031C2C1294BF569BE14B18104AFD04783A5151304BDB&b=5B67370EE27E3722F54C97A01569A6F1
I'm getting fucked off with this now, EVERY bit of unsolicited non-compliant spam I receive from now on is going on here and in return I would like the casino rep to show me when and how I opted in. Many affiliate programmes during the UKGC crackdown actually specified they don't want mailers being sent to UK IP's any more, or not anywhere.