What UKGC says:
"Any gambling business that holds customer funds must set out in their terms and conditions whether and how the funds are protected in the event the business becomes insolvent. Money staked or deposited with a gambling business is not protected by the government the way that personal bank accounts are.

The information they provide lets you know what will happen to your money if they go bust, and this should help you decide who you want to gamble with. Online gambling companies in Britain must keep customers' money in a separate account, but this does not guarantee you will get your money back if the company goes bust. They must explain in their terms and conditions whether your funds are protected and, if so, what level of protection there is. This should help you decide whether you want to gamble with that company and/or how much money you might want to leave in your account with them.

Levels of protection
There are three categories of protection for your money: basic, medium or high.
The companies decide for themselves the category their protection falls into and explain their choice of category. They must include this information in their terms and conditions.We do not approve their assessment, but may we check the accuracy of the rating they have chosen. In each case customers' money is kept in accounts separate from the business accounts. Where the ratings are different is in the amount of extra protection for that money.

Basic
No extra protection. Money in these accounts would still be seen as part of the business if it went bust.
Medium
There are arrangements (eg insurance) to make sure that the money in separate accounts is given to customers if the company goes bust.
High
Customers' money is held in an account which is legally and in practice separate from the rest of the company. This account is controlled by an independent person or external auditor.

The larger the amount of money which you hold with a gambling company, the more thought you should give to how that company protects it. You may wish to choose which company you use by how much protection they offer or spread your money across more than one company."


Most casinos state i
n the terms
that they have
Basic
protection, so your money will be seen as part of the business if it went bust. Under the UK law this is in simple words who gets paid 1st if a business goes bust: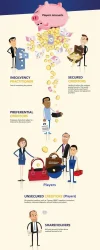 I am no expert, but I placed the players in the above pic where I think they stand, not just in UK but in any country (most good ones are based in Malta). Does anybody have more info on this?
UKGC makes sure that the casino can pay, as long as they operate ok. That is what
Basic
does. But if they go bust there is
no
protection. And the thing is, a casino can go bust for a number of reasons and without a warning. Plus that most of them have limits as low as 10,000 / 30 working days dragging big payments for years (increasing the danger of something happening).
Can't help remembering Purple Lounge....