Firstly, I hate spam! Whenever I open an account at a casino, I ALWAYS say no to receiving bonus offers and to any marketing materials, but somehow there always seems to be a daily dose of crap filling my inbox. The last 3 days consist of: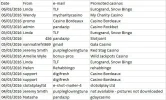 and daily e-mails from someone at TLF (two little fleas) and purpleglowingtuna (wtf?).
Trying to block this crap isn't always fruitful and I dare not click on any 'unsubscribe' link in fear of what it will download/confirm/etc.
Need to look at how to block this permanently!