Official Rep for Casumo Casino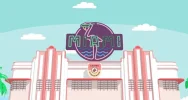 Hello everyone!
I hope that this post is in the right section of the Forum

Once again we at Casumo are doing another
Casino Challenge
with in total
20.000+€ in prizes and a trip to Miami(+4.000€ in pocket money) for 90 players.
You can choose what path you want to take ( choose carefully as you cant change when you have started) and then you have 6 missions ( x amount of spins, x amount of big wins, x amount of mega wins and win x times in a row ) to complete.
The top player in every difficult level will win; Easy-800 €, Medium-1500€ and Hardcore-Miami trip+4.000€(see all the prizes below)
.
All of the prize money is added wager free as real money to your account.
You win by having the least amount of spins so it is to some extent skill based in the sense that you want to pick the best games for that particular mission. On your way to the big winnings you will also receive free spins and super-free spins (Easy=5+40 FS, Medium=20+80 FS Hardcore= 2+10 Super FS, worth 3€ each) depending on your chosen difficulty level. You can also repeat the challenge as many times as you´d like to get a better result.
If you haven't got a Casumo account you can still do the challenge and use your welcome offer,
As always; if you have any questions, Do not hesitate to PM me here or use our live chat / email
hey@casumo.com
These are the winnings:


Best of luck to you all!

/ T