PAB (Complaints) Manager
Staff member

Joined

Jan 20, 2004
Location
For those of you interested in how the PABs went in 2020 we've now got a dedicated page for that:
Online Casino Complaints Summary 2020 - Casinomeister
Here's a peek: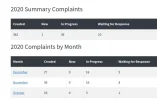 You can drill down for
more details
by clicking on the individual months.
If you've got any questions on the 2020 PABs I'd be happy to help, post in this thread and I'll reply here.
Also, I'll be doing a 2020 PAB Wrap-up Report very soon. Watch this space!
Last edited: