Hey, G'day.
Tried to keep this matter polite, confidential, so the Casino Rep here might get it sorted in the private message facility.
Right?
Didn't happen! Although, the effectively make-believe-$100 "account balance" of mine just don't matter anymore...
Casinomax can stick it
- up some equally convenient make-believe jacksy!
My gripe is that I was mis-led.
See, in THIS country, deceptive or misleading information published ANYWHERE and leading to a consumer getting ripped off or "disadvantaged" can be a punishable offence.
Whether it be deliberate or otherwise sorta don't matter mate!
First reply - I could take a never-heard-of-sister-casino-signup-free-chip offer (?)
Next, it's a "really sorry" for Casinomax publishing "information (that) was misleading "(?)
Yeah, well, me sorry too.
Because that simply doesn't cut it 'round here, downUnder like.
And so, for the benefit of other Casinomeister members, a warning to think carefully about my experience at CASINOMAX.
And if still interested, you make sure you read every bloody sentence on every friggin page you can find,
so you don't end up Up Shit Creek too!
Hour after hour, day after day, playing thru the welcome freebie spins "WR".
Zero outcome. What a huge waste of time !!!
Next...
My $70 in deposits(2) fairly played, no bonuses being requested.
Submitted docs. Got verified...
So how was I to avoid dumping that 100 - my pitiful little recovery attempt, right back in their lap?
Cashout? Good GOD!!! A hundred's Not Enough they tell me.
CS says no can do. WHAT? Even with Visa?
This $200 minimum WD is bad enough... especially when for VISA it definitely says $100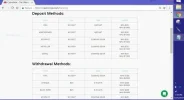 But from where I'm sitting - there being a 'still no CREDIT CARD payouts', and a 'still no NETELLER payouts' situation; PLUS those fees they assign to other forms of payment I've never ever needed, all seems a bit outrageous for a casino that gets any sort of Casinomeister approval.
Don't you think?
So there. I have had my final say.
Or I could add my other screenshots here, if you want the full story?