Joined

Jan 8, 2019
Location
Quick to moan but hopefully a little quicker to praise I wanted to thank CasinoCasino for paying me for the March Challenge contest.
Its April i know but probably fair to say that i may have confused live chat slightly. Since then i have been hounding Jan from L&L for my March Challenge winnings.
To be honest i had almost given up...just 1 more week or so Jan!

but i have always said a man is only as good as his word and the man came through.
Great thing is winnings from comps like this give me a chance to roll a little bigger and its going great so far.....just a bit of x10 wagering to do with no silly terms.........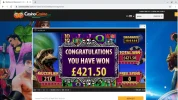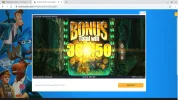 I'll probably hit No Limit City next as they are my favs at the mo and around top 96% RTP across the board at CasinoCasino i believe.
Thanks